26.09.2021 08:50 Age: 20 days

Corona bridging aid for students expires on September 30th
Councelling
---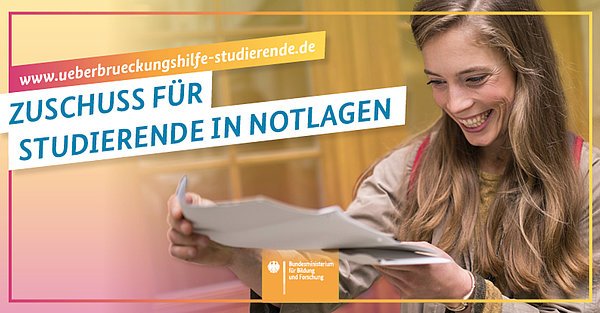 Dear Students,
The application deadline for bridging assistance from the Federal Ministry of Education and Research (BMBF) for students in pandemic-related emergencies expires today as scheduled.
Students can only submit applications until 23:59:59.
Students who have submitted an application here by 9/30/2021 can continue to view it here until at least the end of October 2021.
Student and Student Services will process all applications received by 9/30/2021.
This federal measure was introduced in June 2020 and was originally planned as short-term assistance for three months. Since then, it has been extended several times. It now expires at the end of September 2021. The last possible application date is Sept. 30, 2021.
The pandemic situation has eased in recent months. This is clearly reflected in the number of applications, which has fallen continuously. The main reason for the hardship was the loss of the part-time job. The job market for students has recovered, so there is no longer a need to compensate for the loss of jobs.
Nationwide, 403,000 applications from about 108,000 students had been approved by August, and 182 million euros in grants had been paid out.
The employees of Studierendenwerk Mainz have so far processed 8,207 applications and paid out 3,649,700 euros in grants. The applications for September are being processed.
Starting in October 2021, it will once again be possible to apply for the grants (cash aid, emergency aid, emergency assistance, free tables) of the Studierendenwerk Mainz.
You can find more information here.
We wish you a good start into the winter semester.
Your team of the
Studierendenwerk Mainz
---