Drucken

Studierendenwerk Mainz,
Info Point
Hotline 06131 / 39 22366
Telefonische Sprechzeiten:
Montag - Donnerstag:
09:00 - 15:00 Uhr
Freitag:
09:00 - 12:30 Uhr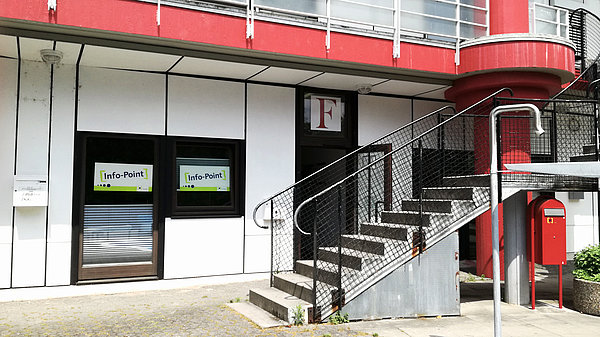 Vorübergehend geschlossen!
Im November 2020 müssen wir den Info-Point leider erneut für den Publikumsverkehr schließen. Bitte wenden Sie sich telefonisch und per Mail an unsere Mitarbeiter*innen.
At the Info-Point you can register for all events by the Studierendenwerk or buy tickets. In addition, you can get information on our Autoload service and register for it.

Our Services
Sale of Studicard for students and staff
Information and registration for Autoload (cashless loading of the Studicard)
Unloading of credit and complaints about Studicards
Lost and found cards and objects
Payment of free tables (Studierendenwerk, AStA and E.W. Kuhlmann Foundation)
Application / Issue ISIC (International Student Identity Card)
Advance booking office - Ticket Regional
Holiday rental for residents of the Studierendenwerk
General information about the Studierendenwerk Mainz
The Info-Point is located in Students House, Entry F.