Drucken

smart | simple | secure
With the Studierendenwerk Mainz payment app, you can now pay at all cash registers.
Here you will find the links to download it in your app store and step-by-step instructions.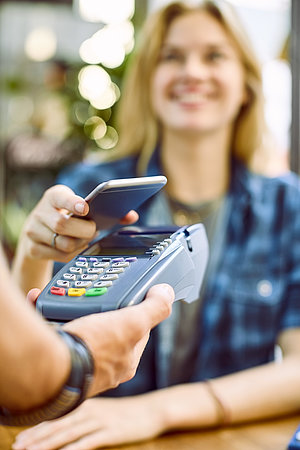 Install and sign in
Download the app from your app store and install it on your smartphone.
You can start using the app anonymously right away. To do so, simply select "sign in" and "Create new account". You do not need to provide any additional information.
Recharge
To recharge, scan the QR code on the revaluator in the app and top up the credit with banknotes as usual.
You will find app-enabled reloaders in the GFG cafeteria, Café K3, the Bingen cafeteria, as well as the JGU Central Library and the ZDV.
Pay
To pay, simply scan the QR code on the card readers at the cash register with the app open.
You can view the respective payment amount of your last purchases in the app at any time.
Autoload: Easy and convenient recharging via direct debit
In the app menu, you can issue a Sepa direct debit authorization under the "Autoload" item. To do this, you need to enter your full name, a valid address and the bank details of your checking account.
.
Securing your account
To secure your account, you can enter an e-mail address. Then, if you lose your smartphone for example, you can log back into your account with a new device.
To do so, you can use the "Link email address" menu item in the app. Once you have activated the link in the confirmation email, your account is secured.
Confirm student status
To verify your student status, you can authenticate with the account of your respective college or university. This is easy to do: select "Confirm student status" in the app menu and select your university. You will be redirected to the website of the respective university and can authenticate your student status there.
Once your student status is confirmed in the app, you will no longer need to present your student ID at the checkout.
However, the student status will only be activated for the current semester and must be reconfirmed each semester.
App einrichten: Schritt für Schitt
1. Anmeldung
Sie haben die Möglichkeit, entweder mit einem bestehenden Konto einzuloggen oder ein neues Konto zu erstellen.
Um alle Funktionen, wie etwa Autoload, nutzen zu können, müssen Sie Ihr Konto absichern. Hinterlegen Sie dazu einfach eine E-Mailadresse und legen Sie ein Passwort fest.
Dies dient auch der Widerherstellung Ihres Guthabens, falls Sie Ihr Handy einmal verlieren oder austauschen müssen.
2. Studierendenstatus bestätigen
Danach können Sie die Autoload-Beträge festlegen, indem Sie eine Untergrenze angeben, ab der Ihr App-Konto an den Kassen aufgeladen werden soll, sowie den Betrag, um den Sie Ihr App-Konto dabei aufwerten wollen. An den Kassen werden Sie beim Unterschreiben des von Ihnen festgelegten Betrages gefragt, ob Sie aufladen wollen. Bejahen Sie dies, geht der Rest automatisch.
Sobald Sie Autoload eingerichtet und das Lastschriftmandat erteilt haben, dauert es in der Regel etwa eine halbe Stunde, bis der Service aktiviert ist.
In Ausnahmefällen kann es auch bis zu einem Tag dauern, bis Sie Autoload nutzen können.
Sie können überprüfen, ob Autoload aktiviert ist, indem Sie im Hauptmenü nach der Option "Aufladen mit Autoload" suchen.
Wenn diese Funktion angezeigt wird, ist Autoload aktiviert.
Falls nicht, laden Sie bitte Ihr App-Konto zuerst an einem Aufwerter-Automaten auf, bevor Sie zur Kasse gehen.
Um Ihr Konto manuell aufzuladen, wählen Sie die Option "Aufladen mit Autoload" und klicken auf den Button. Der von Ihnen gewählte Betrag ist sofort verfügbar.
Beachten Sie, dass der Button und der Menüpunkt im Hauptmenü nach dem Aufladen vorübergehend verborgen werden und erst am nächsten Tag wieder zur Verfügung stehen.
Zusätzlich zum manuellen Aufladen haben Sie einmal täglich die Möglichkeit, auch an einer Kasse aufzuladen, wenn der gewählte Betrag beim Kauf unterschritten wird.
Bitte beachten Sie diese Schritte, um die App erfolgreich zu nutzen. Bei Fragen oder Problemen stehen wir Ihnen gerne zur Verfügung.